Diversity Charter Ireland - Organisations Commitment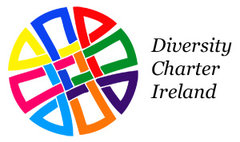 Diversity in Ireland contributes to the richness, resourcefulness and innovation that make society flourish. As people we collaborate in organisations to deliver successful business outcomes, and diversity is key to our success. By signing the Diversity Charter Ireland we in ……... are demonstrating our commitment to effective diversity management, the prevention of discrimination and the promotion of equality in the workplace. In so doing we will:
Retain and attract the best talent to our organisation;
Ensure all employees contribute their best to the organisation;
Attract the diverse range of customers needed to support our business development model;
Comply with the legal requirements to prevent discrimination and promote equality; and
Build awareness and understanding of the benefits of promoting equality and diversity.
We will:
Continually work to ensure we have a corporate culture that is characterisedby respect and appreciation for each person's diversity;

Promote our commitment to diversity in the workplace by training management and employees involved in recruitment, promotion, training, career development and supervision of employees to ensure equality and diversity are harnessed;

Respect and promote the application of all aspects of the principle of non-discrimination at every stage of human resources process, in particular in the recruitment, training, promotion and career development of employees;

Endeavour to reflect the diversity of society and our customers at every level of our organisation;

Involve our employees, customers and suppliers in the development, review and monitoring of our diversity and equality initiatives and action plans and keep all informed of the practical results of this commitment;

Reflect, where appropriate within company reports, our commitment to non-discrimination and diversity including details of the measures and initiatives implemented, our internal procedures, the results achieved and plans to build on our progress; and
Signed
_______________
Title: